Atypical Place provides day programs for cognitively challenged adults and teens to learn farm-based skills that can lead to job opportunities, build self-confidence, and increase independence.
This summer, we are providing Summer Saturdays: programs at Trabia Farms for participants to learn the basic skill sets for raising vegetables, flowers, and herbs, and in farm animal care.
VOCATIONAL PROGRAMS
Introducing
Summer Saturdays
Module 1
A Place to Grow
Preparing the soil

Seed care

Planting

Pruning

Water conservation

Plant care

Harvesting for families and food banks
Module 2
A Place to Bloom
Flower care

Pruning

Harvesting

Arranging Flowers

Drying Flowers and Herbs

Making bouquests and sachets

Sharing to brighten someone's day
Module 3
Barn Buddies
Animal care

Animal health care

Equipment

Safety

Harvesting eggs

Distributing eggs to families

Therapeutic riding (option)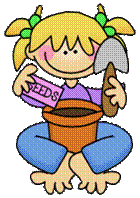 Daily Schedule
10:00 a.m. Arrive at Trabia Farms, review safety and get equipment ready
10:30 a.m. Attend and complete module lessons at your own pace
12:00 noon Lunch and playtime in the Exploratorium
1:00 p.m. Attend and complete module lessons at your own pace
2:30 p.m. Clean-up and return equipment
3:00 p.m. Depart
Program Dates
June 18
July 16
July 30
August 13
August 27
September 10
October 1--Graduation
Format and Requirements
A set of lessons will be offered each Saturday.
Participants earn certificates by completing the series of lessons for each module and demonstrating they can repeat the tasks involved successfully. To complete all three modules, participants must attend all six Saturdays. Lessons are self-paced.
Lessons are geared to special teens and adults, from junior high to senior citizens, but we have a few spaces for younger children. Please call if your student is under 13 years old.
We ask that participants be accompanied by a caregiver as appropriate.
Register and pay on our Calendar page for each Saturday you want to attend.
Cost for the FARM PROGRAM with Therapeutic Riding is $60 per participant per Saturday.
Cost for the FARM PROGRAM ONLY is $30 per participant per Saturday.
Includes use of safety equipment, lesson materials, and lunch and refreshments for participants and caregivers.
Please download the Liability waiver and Photo release forms and bring the completed forms with you to your first class.
Apply for Financial aid scholarships or Request transportation if these are obstacles to attending our programs.